Info "FAQ" and Articles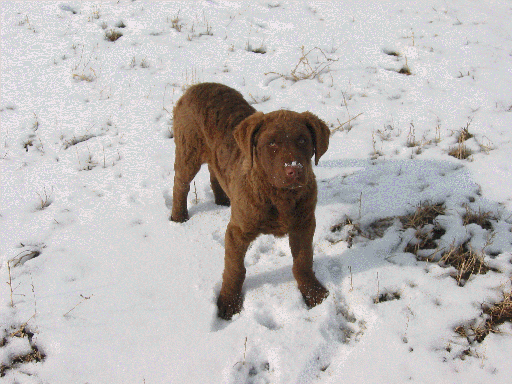 Buying a puppy from Caledonia Kennels
· Do we ship?
Yes, from Melbourne International Airport to the nearest major airport.
· What does this cost?
All airline fees, shipping kennel, and vet papers are extra. We recommend checking with your local airlines for prices. There are also weather restrictions that apply during certain times of the year that we have no control over. We charge fifty dollars per trip to take the puppy to the airport.
· At what age can we bring our puppy home?
Eight weeks.
· Do I choose my puppy?
Not usually, we pick the puppy for the new owner. We are not a large kennel that has more pups on the ground than they can count. We live and play with each of these puppies for eight weeks and we know their personalities. We have also owned, trained and bred Chessies for twenty years. Our dogs have been successful in the field , breed and obedience rings and we understand what temperaments and conformation works for each.
· How do I reserve a pup?
Puppies are only reserved by a $200 deposit.